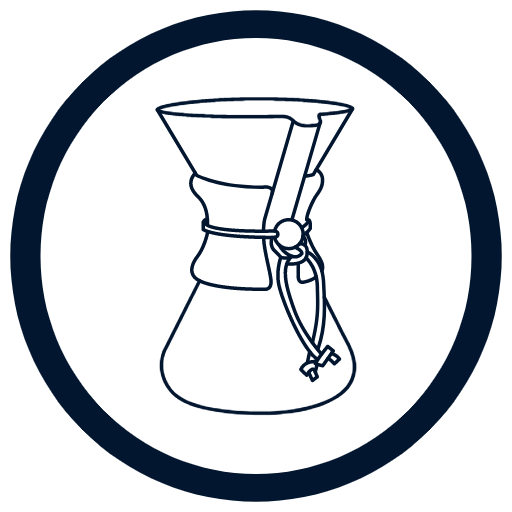 The Chemex is a manual pour-over coffee maker that will brew you a clean, full bodied coffee.
WHAT DO YOU NEED
Chemex – Scale – Timer – Grinder – Filtered Water – Water Boiler/Kettle – Chemex Paper Filter – Pouring Kettle – Varietals Coffee – mugs
Brew Ratio : 55-60 grams coffee for 1000 ml. of water
1) Boil water to 95 degrees celsius.
2) Weight 24 grams of Varietals Coffee, grind it course between a V60 and a French Press.
3) Fold the Chemex paper filter and place it into the Chemex, be sure that the triple fold area is facing towards the spout.
4) Wet the paper filter with boiled water and discard this water.
5) Put the Chemex on the scale. Add your ground Varietals Coffee in the paper filter and tare the scale.
6) Add the boiled water to your pouring kettle.
7) Start your timer and pour 50 grams of hot water on the coffee and allow the coffee to bloom for 30 seconds.
8) Next, pour the remaining 400 grams of the hot water in 2 stages, aiming for a total brew time of around 3 – 4 minutes. Pour the hot water in slow circular movements. Stop the extraction after 4 minutes, even if it's not finished, otherwise it will taste bitter.
9) Serve the Varietals Coffee and share your experience with us on social media with #VarietalsCoffee