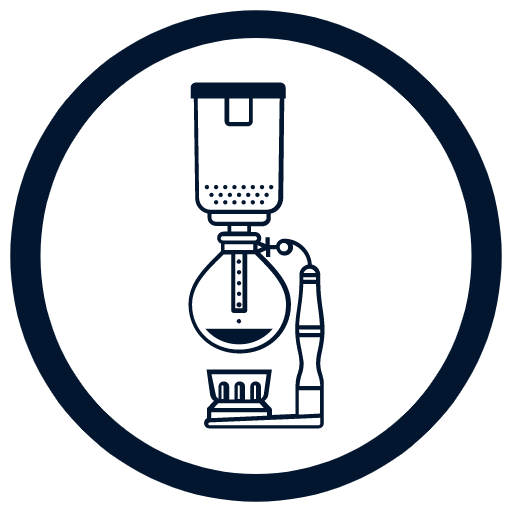 The siphon is a complex and time consuming brew method, but it produces a crisp and clear cup of coffee. The ideal after dinner brew method with friend or family.
WHAT DO YOU NEED
Syphon – Scale – Filtered water – Kettle – Grinder – Timer – 22 grams Varietals Coffee – Spoon – Burner or Syphon halogen heat lamp – mugs
Brew Ratio : 75 grams coffee for 1000 ml. of water
1) For faster brewing, bring water to a boil (93 degrees celsius.)
2) Weight 22 grams of Varietals Coffee, grind it medium to course.
3) Fit the filter into the upper chamber, then adjust it so that it is perfectly centered.
4) Set the Vacuum Pot on the scale and pour 300 grams water into the bottom pot.
5) Put the bottom chamber on the burner or Syphon halogen heat lamp, then place the upper chamber on top. Don't close it yet!
6) Once you see that the water starts to boil, close the upper and bottom chambers.
7) Reduce the burner or Syphon halogen heat lamp to low. The water will start to flow up to the top chamber.
8) Once the upper pot is half filled with water, add the coffee to the water, stir until the grounds are saturated.
9) Wait 30 seconds, then break the crust which is formed on top and give the brew another stir.
10) After another 30 seconds, turn off the burner or syphon halogen heat lamp.
11) The coffee will move down into the lower pot, stir it one or two times more.
12) Pour the coffee into a warmed vessel to serve. Leaving it in the hot Vacuum Pot, will give it a burnt taste.
13) Serve the Varietals Coffee and share your experience with us on social media with #VarietalsCoffee