Our company was founded based on a passion to deliver you fresh roasted premium coffees that taste the way coffee was meant to taste.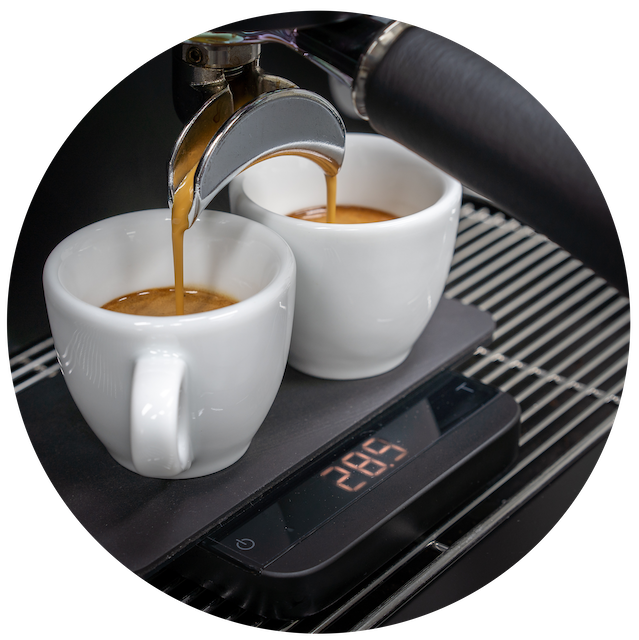 The Idea
Both not happy in our present work and exploring the possibility of a career change. Coffee and tea was not a booming business by then, but we decided to give it a chance.
Start Roasting
March of this year, after some test batches, we roasted our 1st. commercial batch of coffee for our own retail shop. Exciting and anxious of what feedback our customers will give on this.
Move Of Roastery
Logistically it was unable to continue roasting in our shop and with pain in our hearts we made the decision to rent a warehouse and move out the Diedrich roaster to the city of Enkhuizen.
Retail Shop
February 20th. in the year of 2002, we opened the doors of our own retail coffee and tea store in the city of Hoorn (the Netherlands). Experience in retail "yes", experience with coffee "no".
Roaster Change
Due to technical issues and capacity shortage our 7 Kg. Diedrich roaster was changed by a new and bigger model with the capacity of 12 Kg. per batch of green coffee.
End of Retail
In the eight years of retail, we have achieved almost everything available and we decided it became time to focus on private label coffee roasting and wholesale. We sold our shop.
Birth of Varietals Coffee
It's in our genes to constantly improve ourselves and gain more knowledge. Varietals Coffee gives us the opportunity to roast high quality coffee and help us understand what customers search.
The Roaster
Competition came into town and to avoid having two similar shops in the same street we decided to buy our own 7 Kg. Diedrich coffee roaster to differentiate ourselves.
Best Retailer Award
October 2007, we were awarded by the public of the Netherlands as the best retail store of our country. Result, a lot of attention and extra sales of coffee and tea.
Roaster Change (Again)
Focus on coffee roasting paid off. The Diedrich 12 Kg. was not big enough anymore and sold. A state of the art Loring 35 Kg. came in place, the first one installed in the Netherlands.
Loring Nighthawk S7
With only our 35 Kg. Loring we missed out the option to roast very small batches of limited edition coffees. The Nighthawk 7 Kg. roaster is installed. Again the first in the Netherlands with two Loring roast machines.
These summaries above are just highlights from our start in 2001 up to and including today. Is is not complete at all, there is nothing in there about all the competition coffees we roasted for national and international barista's. Nothing about numerous participations in Cup of Excellence juries we attended since 2006. Also not about other companies we were co-founders off, all the SCA certificates we have achieved or all trainings we are able to teach. We think our journey in coffee has just started and we want you to become part of it.
Roasting
Roasting coffee is the most difficult culinary discipline. We still believe we can improve ourselves and therefore our main focus is roasting the best available coffee for Varietals Coffee.
Education
We  are able to help you grow your knowledge. We can also educate at your own location.
Consultancy
Existing or new coffee company? Let us help you building your business. The quote "been there done that" applies to us. With years of experience we can help your business grow.
Why We Use A Loring Coffee Roaster
The world of coffee is changing dramatically as Environmental Green initiatives and Micro Quality Roasting process has captured worldwide attention!
Our Loring roaster is at this moment the greenest and most efficient coffee roaster in the world! The acquisition of our Loring roaster was the next level of our commitment to refine coffee production with a state of the art odorless, smokeless flavor locking roasting system. Read below why we choose for Loring as our partner for roast machine.
Gas Savings

Electricity Savings

Electricity Savings

Reducing Carbon Footprint

Coffee Consistency

Cleaner Cup
Loring roasters use a patented single gas burner system that provides heat for both roasting
The Original Smokeless
Roaster
The Loring Roaster is energy efficient as there is no need for an afterburner; this coffee roaster reduces our greenhouse gas emissions and our energy consumption (see bar counters left).
Why We Use Cropster Software
Cropster Roast is the smartest roast profiling software (Roasting Intelligence) combined with a web platform helping our roast consistent results, efficiently organize our roastery and better understand our coffee quality.
Easy, clean, complete roast profiling

We get all key roast values at highest accuracy. Integrate with inventory, QC, roast analysis. Hands on roasting, Cropster keeps the notes.
Cropster develops the specialty coffee industry's #1 software solution.
We focus on the roasting process. Cropster's Roasting Intelligence (RI) is our eyes and ears in the drum. Track and visualize temperatures, Rate-of-Rise (RoR) and gas for accurate real-time roasting assistance. Reference curves and timers guide us through the process to produce consistent results. Cropster keeps our inventory up-to-date, sync roasts to our account where we can dig in and analyse details.
Our Philosophy about coffee is simple. Buy good coffee.
Our coffee isn't fair trade, free trade, direct trade, or any other model. Our coffee is Relationship Coffee. We know where we buy our coffee from, we know what makes that coffee unique and we want to share that with you.
Tosca
Co-Founder
Roasting is something Tosca is specialized in. She can concentrate herself totally to the roast and lock out the environment around her, which is a guarantee for the best possible roast result. Sourcing coffee and quality control are besides roasting her main skills within the company.
Jan
Co-Founder
Businessman is the best way to describe Jan. Besides the commercial person in the company he is suberb in organizing the daily workflow. Education and consultancy is something he is expert in and he is the connecting element between our coffee suppliers and Varietals Coffee.